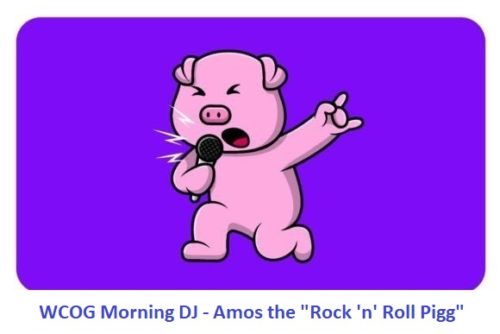 WCOG's morning show plays the most music in the mornings in the Triad! Local news, weather, and traffic and national news and sports, plus business and features reporting from CBS Networks. Stay informed as we keep the music rolling every weekday morning from 6-10a, then listen all day for your favorites from the 70s, 80s, and more!
And, of course… Amos, the "Rock 'n' Roll Pigg"
It all started many years ago when I was but a little piglet.
Mom and Dad took us – the whole litter – to Santa Cruz, California on vacation.. 
I was the runt of the litter, and while everyone else was exploring the boardwalk and the beach,
I made a life-changing discovery.   KPIG.   Radio Station KPIG's studios were right next to the boardwalk! 
I stood there for hours, with my little flat nose pressed up against the glass of the DJ booth.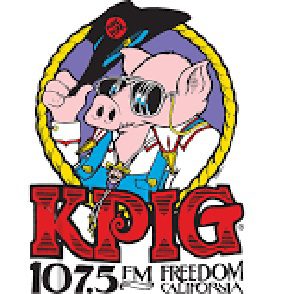 I was in hog heaven!  I knew from that moment that when I grew up to be a boar I would be be a Radio DJ!
Wow!  I must have squealed WEEE WEEE WEEE all the way home!
I'm not a pigment of your imagination!   I'm Amos the "Rock 'n' Roll Pigg" on WCOG Radio!
Here's some more information about me.
Favorite Music: The Eagles, The Beatles, The Turtles, The Byrds, Three Dog Night, The Stray Cats and The Animals
Favorite TV character : Arnold Ziffel
Favorite Grocery Store: Piggly-Wiggly
Favorite inspirational quote "Not by the hair of my chinny-chin-chin."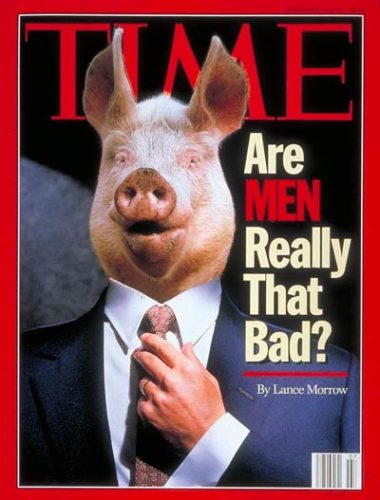 Proudest moment: When I was on the cover of TIME Magazine
Hero: Dusty Dunn
Favorite Movie: Porky's
Favorite Chinese Calendar: The Year of the Pig
My rap name: The Notorious  P. I. G.
Favorite Motorcycle: Harley-Davidson
Where you'll find me: At my Pigg Pen
A fun afternoon: Pignic on the Blue Ridge Porkway
Favorite activity: Makin' Bacon!